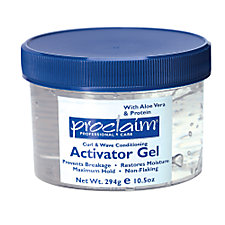 proclaim curl and wave conditioning activator gel
w
ater, glycerine, propylene glycol, aloe barbadensis leaf juice, hydrolyzed wheat protein, carbomer, triethanolamine, fragrance, methylparaben, polysorbate 20, methylchloroisothiazolinone, methylisothiazolinone, alpha-isomethyl ionone, linalool.
yet another purchase i got on recommendation from someone at lhcf. this gorgeous user had managed to shingle her twa and it was the business. so, i popped on over to sally's two weeks ago (i got this the same day i got the tj's conditioner) and ran in. i stalled for a second when i found it, though, because there were a few different formulations. there was protein (black top), aloe vera (green top), and then this one with both (blue top). i hate options and figured that if i had to pick one, i might as get the one that had both ingredients in it. i don't even think i noticed the price until i got to the register - $1.69 for 10.5 oz. not baaaad. i return things to sally's a lot, so i was hoping i liked this. if not, i'd give it away. i am not returning less than two dollars worth of merchandise. my god.
luckily, i fell in love with this jar of gel the first time i used it. i'm glad i picked it up because, disclaimer: before this gel, i thought that anything with the word "activator" in it was either something extremely different/special/potent, or it was for keeping your jherri curl nice and juiced up. after reading the ingredients, i've realized that it's just a hyped up name for gel.
packaging is extremely simple and straightforward. a sturdy jar, that looks like it cost every bit of two dollars. not that i mind - it'd just be sitting on my dresser. it smells just like any other gel, although i do like the smell of this for some reason. great spreadability, etc., etc.
now, performance. i love this gel. so much, that i use it every day. haven't decided if this is bad or not. i haven't tried to shingle with it yet, only because of scab hair and i'd rather avoid that frustration. this gel really does define and pop my curls all over my head and what's great is the hold is amazing - it doesn't dry hard or crunchy. perfectionnn. this may even have beat out ecostyler - it was very easy to add even the tinest bit too much and my hair would become crunch city. not cool.
gel is the last step in preparing my hair in the morning, and i've noticed that when i play in my hair during the day, my hands don't come back shiny. now, when i was just using shea butter and jbco, some product would sit on top of my hair, making it not touch-friendly. maybe it's the gel, but no greasy hands, no greasy hair. great! i've been getting lots of compliments lately, too; my favorite: "it looks so moisturized and curly!" well, thaaaank you! :]
only thing i've noticed is when i've played in my hair too much, i get tiny flakes, and this is usually only when i've been using the gel daily, and haven't co-washed in a minute, so i'm guessing it's buildup. and then, i only really get them on my edges in the front. my hands go here first when i apply any product, so it gets most of it - so probably buildup. just means it's wash time. other than that, no complaints.
gel is tricky in that it can cause you to troubleshoot and tweak your regimen over and over again. my regimen isn't rock solid, but if i use gel very often, it means i'll have to shampoo a lot more often, so i'm watching my hair carefully. more shampooing means a chance for my hair to dry out, and with the cold weather kicking in, i don't need any extra dryness. i'll probably cut back on the use, just because shea butter and jbco keeps my curls pretty defined already.
would i repurchase? absolutely!